Harvesting and Storing Butternut Squash
In 2013 we selected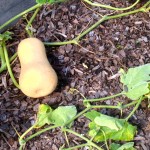 a hybrid seed called Dick's Pick Hybrid Butternut Squash (from Jung Seed) this year for butternut squash.  We planted it in late May when the soil was warm.  This variety required 100 days to maturity.  Pictured here is one of the plants almost ready for harvest.  (Please disregard the powdery mildew on the leaves and the slug on one or more of the leaves.)  When to harvest?  First, look for the color to transition from a creamy yellow to tan.  When it is ready the outer shell should resist your finger.  If you can leave a dent in the skin or scratch it with your fingernail, it is still not ready for harvest.  If you are planning to store the squash for several months, you want it to be mature before harvest.  You can eat them now if you use them within one or two weeks.  Since the squash won't ripen further after harvest, wait as long as possible (but not till frost!).
How to harvest?  Choose a sunny dry day when the squash are dry before the first freeze  In Barrington, our average first frost date is October 15th.  This is the time of day to be watching the weather to be sure you harvest everything before the freeze.  (in spite of the fact we are predicted to have temperatures in the 70s and 80s during the day this week).   It is very important to include a two to four inch piece of the stem when harvesting the squash.  This will reduce the chances of bacteria or mold contaminating the fruit. Wipe clean with a damp cloth. Store in a cool dry area with temperatures between 50 and 55 degrees.
 To reduce chances of spoiling, do not allow the squash to touch each other and do not store near apples. In ideal conditions, butternut squash can be stored for 4-5 months.