Three Easy Annual Flowers for Salads –Nasturtiums, Borage and Cornflowers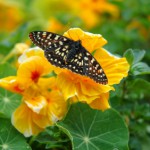 We have been growing nasturtiums in the vegetable garden for many years.  The hardest part of growing nasturtiums is remembering to buy the seeds and plant them! (So they are great for childrens' gardens.) Since there are many different colors available I switch colors every year.  I love the round green leaves, the large flowers and the peppery flavor. Gardeners say they repel whiteflies from tomatoes and other vegetables and attract aphids away from other crops. Nasturtiums don't mind poor soil and are drought-tolerant once established. I tuck them in corners around the garden beds once the ground is warm (around Mid-May) and have flowers for salads in a few weeks.  These keep going until the first frost in October.   Mine are still going strong today, Sept. 26, 2012.
This year I added borage and cornflowers in the herb gardens as an experiment.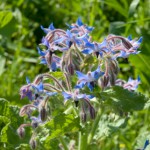 I am delighted to report that for my two seed packets I have been rewarded with large stands of beautiful plants. The bees love them and the deer do not! The borage has 2-foot tall, slightly prickly, thick-stemmed plants with dozens of sky-blue flowers. You can eat the leaves, but I find them too sharp, so I stick with the flowers. They are tiny blue stars and taste a bit like cucumbers.
The cornflowers are also blue with totally different foliage and flower form.  Leaves are greyish-green and thin, about 12 inches high with blue flowers with many petals at the top of stalks.  I pull the flowers apart and sprinkle the petals in salads. Both of these blue flowers are nice as a decorative accent on a caprese salad (still harvesting tomatoes!)
Here we are in late September and these annuals are all growing like weeds. Next year they will live in the sunny open garden where they will have plenty of room to spread.   Some of the other edible flowers I've tried include: roses, chives, Johnny jump-ups and pansies, lavender, thyme, sage, violets and calendulas.
I don't use pesticides in my garden, so these are safe to eat. I do carefully wash them—especially check the throats of the nasturtium flowers for bugs!