Trendy Tangerine Tango–Color of the Year
Pantone's 2012 color of the year is Tangerine Tango 17-1463 TCX.    It feels like summer to me!   Bright colors are great when the sun is strong mid-summer through Fall.  Paler colors tend to look washed out in the full sun by then.  Bold orange is nice with a purple accent and different greens for texture and interest.   For a really zingy combination, I might try a tangerine/purple/greeny-lime combination.
This is Dahlia Karma Bon Bini from White Flower Farm.  It is a cactus-flowered form (the tips of the petals are pointed), with an orangey-red petal surrounding a yellow center.  The blooms are 4" across and are on sturdy dark stems.  I think this Dahlia would work well in containers with a trailing purple petunia and a couple of different green foliage plants.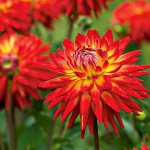 Dahlia Karma Bon Bini
Zinnias are also very easy to grow–so much so they are often chosen for children's gardens.  I've been growing them since grade school in Louisiana!   This year I might try Zinnia Double Zahara Fire (an All-America Selections winner–also found at White Flower Farm) for that orange-red color.  Zinnias will fill spaces in my peony borders with their blooms from June until at least September.   This variety will be around 12" high and is mildew resistant.  Zinnias love full sun and heat, so they are also great for a container in full sun.   Keep cutting them and they will keep blooming.
Order seeds and tubers now for the best selection and you will have them when you are ready to plant in late May.  Happy Gardening!